"Entertainment is a gift of joy and I'm here to deliver the package!"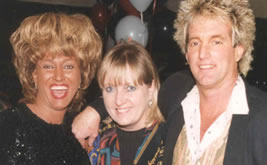 Alana Joos, Founder
Entertainment Express
Alana is a unique blend of personalities and talents. She has experienced the diversity of growing up on a North Dakota farm and transitioning to one of the world's richest cultural centers, Los Angeles.
She's a professional emcee, drummer, percussionist and disc jockey and has appeared in movies, TV shows, and concerts throughout the world. Alana has performed with the USO Shows in Korea and Okinawa and was the drummer for Jerry Van Dyke when he appeared at Harrah's in Reno and Lake Tahoe. Throughout the years Alana has led various successful top 40 dance bands and musical groups here in Los Angeles.
Alana holds a Bachelor's Degree in Music from Moorhead State University in Minnesota and a Master's Degree in Music from California State University, Northridge. She has served as graduate assistant in percussion at CSUN, conducted various ensembles and theatrical productions, taught private music lessons and performed at hundreds of musical events. Alana is an accomplished marimba player, drummer and teacher.
Entertainment Express also offers décor and event design. Alana's creative touches pull together all of the elements needed to ensure a beautifully planned affair. Her artistic abilities allow her to design many of the centerpieces, name signs, and décor pieces at Entertainment Express. She is also training to be a CBA (Certified Balloon Artist).
Alana has a passion for life and everything good. She loves California, North Dakota and the ethnic diversity and rich cultures that surround her. She has a deep love for her family and friends and enjoys helping people plan their parties!
Hobbies: fishing, gardening, culture, pets, computers & music.
Exclaims Alana: "Life is so precious. I'm happy to have made positive contributions to thousands of celebrations. Thank you for 27 fabulous years!"