ACROBATS & CONTORTIONISTS
Theatrical acts like those seen in Cirque du Soleil or traditional style circus and acrobatic shows are available. Acts can include the aerial ribbon dance, high wire, flying trapeze, high diving, or floor work including hand balancing, flips, trampoline, contortionists, etc.

We have videos of many different types of acrobatic performances available in our office for viewing. Prices for performances vary greatly and are determined by the type of show, location, difficulty and length of performance time. Individual artists and troupes of performers are available. Discuss pricing and options with one of the staff members at 818-780-4433.

This troupe includes a World Champion and a Gold Medalist!
---

This duo incorporates stunning visual effects into their acrobatics.
---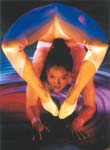 Contortionists are like human pretzels-- their incredible flexibility will astound you!