BASEBALL BATTING CAGES
Could you make it as a Big League Slugger? Find out in the batting cage!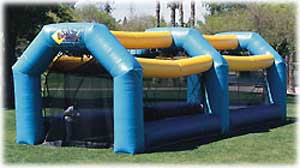 Inflatable Batting Cage
It's okay to swing away. Fully netted, professional style batting cage and high-capacity pitching machine. Pitch speed is fully adjustable to accommodate all skill levels – from Babe Ruth to Dr. Ruth. Inflatable, so it sets up in minutes. Great for sports-themed parties.
50'Lx15'Wx18'H/req. 20amp & 10amp
---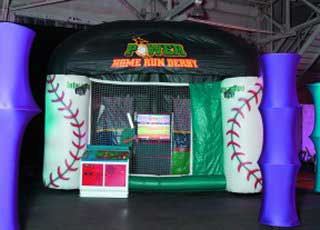 Home Run Derby
The ultimate in baseball simulation. Players use real bats, without wires, to swing at virtual pitches. Relying on infrared sensors, Home Run Derby accurately measures human motion. Scores are determined by hitting distances in an operator-definable number of pitches. The distance is counted from the moment the ball hits the ground. As balls are hit, the player's perspective, the "camera," follows the ball into the field or into the stands if the player hits a home run. Players can work their way from Rookie, through the different levels of the minors, all the way up to "the show'" as their skills improve.
20'Lx15'Wx11'H/req. 20amps & 5amps