AIR HOCKEY, FOOSBALL, DARTS
Air Hockey, Foosball, Darts-- bring the competition to your your party with these exciting sports games!

AIR HOCKEY

Two-player game in which you guard your goalpost and keep your opponent from scoring. The hockey puck glides on air as you defend yourself.

8'Lx4'W/req. 7amps
---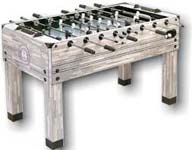 FOOSBALL
Take your skills from the soccer field to the table as you challenge an opponent in this fast moving game. A miniature version of soccer, you have to stay focused and agile to make sure you win!
4'7"Lx2'5"Wx2'11"H/no power required


---
ELECTRONIC DARTS
No more questions about scoring – this dart game keeps score for you and updates you as you play. Scores change immediately, there is no waiting.
There are various skill levels to choose from, and the darts are blunt-plastic tipped to be safe & fun for all ages.
9'Lx3'Wx8'H/req. 5amps